Forestway Dr, Mt Holly 28120
OFF MARKET
ARV $200k (see the comps!)
Rent/Rehab the house, sell/build on the lot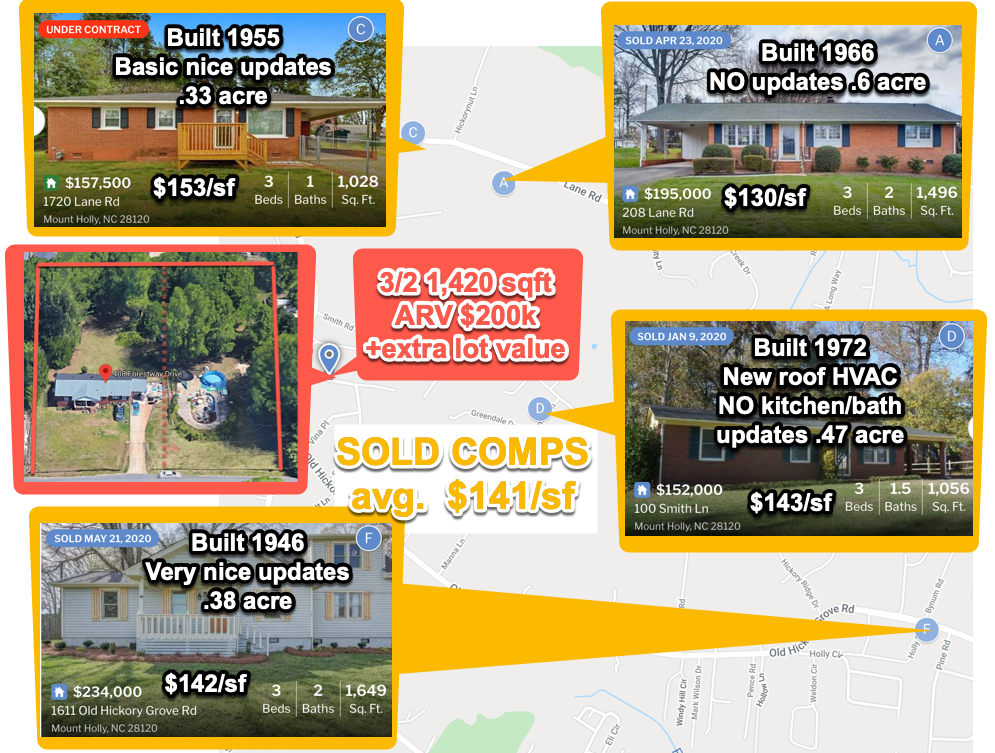 SOLD COMPS of older homes support ARV $200k
NEW builds average sale $175 sqft (build on the lot!)
Forestway Dr, Mt Holly 28120
Needs general maintenance/ clean-up/ updating;  brick, windows, roof in good condition. Great comps!
Property Details:
1420 sqft, 3 bedrooms, 2 full baths on one of the .45 acre lots [total .90 acre with adjacent lot]
Original hardwoods in good condition, Foundation appears sound
Windows have all been upgraded, Roof (2010)
City water, private septic, central HVAC
Currently rented $900/mo to 6-yr tenants (can stay or leave)
Adjacent lot has old pool & concrete deck on separate parcel (.45 acre)
Total tax value $121,010;  Total tax bill (paid) 2019 $1,138.90
Property Needs:
AC not working (Tenant is using window units)
Septic is "acting up"
Bathroom #1 needs new shower installation completed
Adjacent lot: Pool is most likely unrepairable
Transaction Details:
Property As-is
Buyer pays all closing costs
$5,000 deposit (applied toward the purchase price)
Guaranteed clear title through closing Attorney
Have Questions? Want to inspect this property?
Call / Text Rochelle 704-765-4800
Rochelle@solutionhomeinvestors.com
WE ONLY OFFER OUR PERSONALLY OWNED PROPERTIES OR ASSIGNABLE CONTRACTS
Property information presented above is believed to be accurate; buyer to perform due diligence